I'm back!
Ah, back in the blogging world... I'd be lying if I said I hadn't missed it a little. But I didn't miss it that much because I was way too busy having an AMAZING time in Wilmington with my girls!

We went all over the place, including Bridge Tendor, Georges, 22 North, Red Dogs, Fibber McGees... I can't remember the rest of the names - I suppose the consumption of too much alcohol had a lot to do with that...

So, as promised - here are the pics!


We threw a surprise bachelorette party for Katie (she's getting married in November, but lives in Arizona, so we threw it rather early)... Everyone gave her some lingerie and we (being the phenomenal arts and craft artists that we are) made her a shirt to wear that said "Suck for a Buck" with a bunch of lifesavers on it.
And all night long boys from all over paid $1 to suck a lifesaver off of her!


And we dressed in shirts saying that we were bridesmaids... although we aren't really. (Me, Kristin, Melysa, Jill)


We laughed, drank & danced the night away...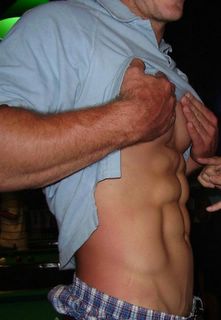 And, certainly, none of us complained when a boy from school showed up at one of the bars we were at, whom we'd all admired for years (while on the dance team) because we'd see him working out. And he randomly decided to show off his abs (again, no complaints!) and I was quick to get a pic, of course :) Too bad he was boring & impossible to hold a conversation with... But no single ladies = a four day weekend all about us, with no room for boys anyway!


And of course, by the end of the night we were all helping Katie get rid of those lifesavers. Obviously, as her manager for the evening, I didn't have to pay a buck to suck! ;)


The next day, we did absolutely nothing except watch old dance team videos because we were SO hungover... But then we went out to a 3 hour dinner at a place called Georges (I think). It was lovely, even if the service was really slow. (Me, Jill, Ginny, Katie, Kristin, Leigh Ann, Melysa)


On Monday, we went out on a yacht... appropriately named "First Down Pirates" (GO ECU!)


View from the dock...


All the girls! (minus the two - Brianne & Emily - who couldn't make it... but they'll be there next year!) - Me, Katie, Kristin, Leigh Ann, Melysa, Jill


And all of us again... this time with Ginny, our new favorite friend! (One of Katie's best friends who recently moved to Wilmington... Second from the left)


And I even got to drive (or is it steer?) for a little bit! (Considering that it was my first time on a boat, it was pretty exciting!)


And check out the amazing sunset we had when we got back to land!

Wow, ok, now that this post is about as long as a short novel, I'll finish by saying that I had a fantastic time. I wish I was still there. And thank God for my college girl friends, I couldn't survive without them! So our first annual reunion couldn't have gone any better than it did! (Next year Arizona/Vegas and then in 2007 - Hawaii, baby!) Luckily, I'll see them all again in November at Katie's wedding!

Hope everyone else had a good weekend & beginning of the week too!