Move Over Deep Throat... Another DC Mystery Man Has Been Revealed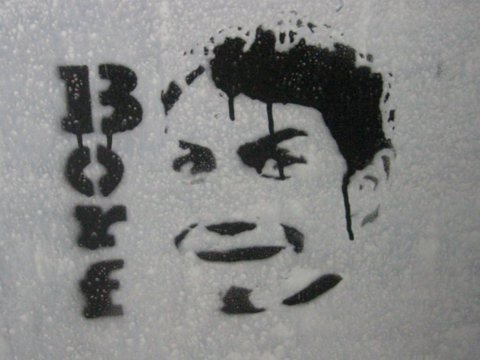 (A friend, with whom I've seen this graffiti, pointed out the "Borf Revealment" to me.)
So you know you've seen "Borf's" graffiti around DC. His artwork includes a huge five-foot-high Borf face that appeared on a Roosevelt Bridge sign, and a 15-foot "BORF" above a Dupont Circle cafe... There's the stencil of a little girl who holds a sign saying "Grownups are Obsolete" and the Borf face is really all around the city. His spraypainted work can be viewed on the base of the Key Bridge, or on a brick wall by the 9:30 club.
"People took pictures of his work and posted them on Web sites. Bloggers speculated on the culprit's identity and his motives. Was he man or woman, one person or many? What did Borf stand for? Some people were enraged and others were cheered by that mischievous Borf face..."


Well, the graffitist's real name is John Tsombikos and he just turned 18. He borrowed the nickname Borf from a friend who committed suicide two years ago.
The kid is considers himself a crusader for youth and is against age.
Once upon a time, Borf said, he was "just, like, some liberal, like anybody," but then he started reading, and found out he really wanted to be an anarchist. He decided he doesn't believe in the state, capitalism, private property, globalization. Most of all, he doesn't believe in adulthood, which he considers "boring" and "selling out."

"Growing up is giving up," he said. "I think some band said it."