Wedding Crashers... The New Old School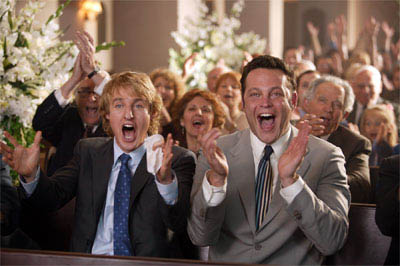 Ok, without a doubt it's the funniest movie that I've seen in a LONG time. Perhaps since Old School came out. As a matter of fact, I think this movie may rival Old School. Which, in my book, is the funniest movie out there.
A few reasons the movie rocked:
It takes place in DC.
There's a guest appearance by another member of the Frat Pack.
Vince Vaughn has more funny lines than you can possibly count. Seriously. I had tears running down my face.
One of my personal faves: When he talked about the "just the tip" game... You'll know what I'm talking about when you see it... HILARIOUS...
Also: "She just eye-fucked the shit outta me!"
Seriously, every few minutes there's a new, quotable, hilarious one-liner... But, come on, did you expect less?
Christopher Walkin stars in it. Need I say more about that?
Jane Seymore does a complete 180 from her role in Dr. Quinn Medicine Woman. (Does anyone else even remember that show?)
Cussing Grandma = rapping Grandma from the Wedding Singer... always funny
The list could go on and on and on... but I have to get some work done today!
Honestly, I expect to be back in the theater watching it all over again sometime this week.